Digital health is the application of digital technology to healthcare with the expectation of better outcomes. Specifically, the better outcomes of reaching more people with the healthcare they need, reducing the associated burdens for both patients and healthcare professionals, and the potential to cut costs for everyone.

The possible applications for digital health are vast. They include:
Medical professionals providing care remotely using video conferencing and robotic technologies
People wearing devices and sensors that measure movement, heart rate, and/or blood glucose (BG) levels
Software algorithms that anticipate physical crisis or dose medication
Surgery performed remotely
Huge databases of people's health data available to medical professionals, public health officials, and researchers for analysis
With all its endless possibilities digital health is seen as having the potential to remake healthcare itself, solving many of its ongoing issues along the way. Its supporters argue that digital health will produce higher quality healthcare, at a lower cost, and with better accessibility. Its detractors argue that the benefits of digital health are expensive, have been oversold, and are yet to be proven.
The $37.7 billion question
After a decade of development and with more than $37.7 billion invested, what can we say about digital health's impact?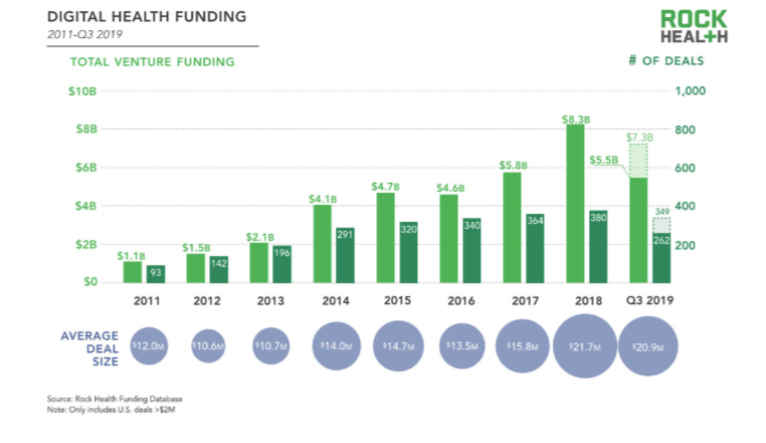 Total venture funding for digital health tops $37.7B since 2011 | Source: Rock Health
Certainly we can't point to any massive systemic change. Healthcare hasn't been reinvented.
One detractor, Neal Khosla a cofounder of two digital health startups, went so far as to call digital health's impact disappointing. He lamented seeing incremental change where he felt that digital health should have spawned systemic change by now.
All is not lost. There is mounting evidence that digital health has provided some benefits.
Reaching new populations
Not just in the US, but all across the world, people have adopted and are using the single most universal platform for digital health: the smartphone. Pew Research reports that 81% of Americans own a smartphone. More than just a communications device, smartphones are being used to collect and analyze health data, provide the individual with health-related information, direction, and more.
One example of a healthcare system using smartphones to reach additional populations is Christiana Care Health System. Their CEO Dr. Janice Nevin discussed their virtual primary care practice at this year's Annual Thought Leadership on Access Symposium. This practice connects with patients via video conferencing and text messaging, allowing people to be treated in their home setting with less disruption to their daily routine and fewer out-of-pocket costs. While in-person appointments are still available, they are no longer the default. Dr. Nevin also mentioned that they see potential in this approach for reaching people who wouldn't normally go to a hospital or healthcare center.
Reducing the burden of disease management
Smartphones also give people the ability to connect medical devices, like blood pressure (BP) cuffs, BG meters, and sensors to the cloud. In this way, all kinds of medical data can be collected with little effort. Algorithms based on treatment guidelines for specific conditions can then analyze this data and suggest an appropriate treatment or intervention.
Brigham and Women's Hospital has developed a step-by-step clinician-driven algorithm for blood pressure management based on national treatment guidelines. Patients receive a Bluetooth-connected BP cuff to measure and report their BP levels from home. These readings are monitored by pharmacists and healthcare navigators who then follow up with regular phone calls. During these calls the patient receives feedback and direction on how to best manage their hypertension. These calls also give patients an opportunity to ask questions and discuss their concerns. This system allows for quick and efficient adjustments to medication, when needed. Both patients and healthcare providers are freed from the burdens associated with traveling to in-person appointments and trying to discuss multiple conditions during a standard 15-minute appointment.
Saving costs
With health spending at 17.7% of gross domestic product (GDP) in the US multiple stakeholders are looking for ways to bring healthcare costs under control. From the beginning, digital health has been promoted as a way to save healthcare costs. Estimates of these potential savings range from $7B to $46B in annual savings. To-date, demonstrating such savings has proven elusive.
A few digital health providers have calculated potential dollar savings for their treatments and interventions. But most of the conversation around cost savings centers on using technology to make the current healthcare system more efficient. Examples include using text chat or telehealth in place of in-person appointments, using screening portals to direct people away from (expensive) visits to the ER, and sharing patient electronic health records (EHR) to eliminate duplicate medical tests. While these savings are welcome, the question remains whether the investment costs in digital health are worth while.
Realizing digital health's promise
Is it realistic to expect digital technology to remake a system as complex and varied as US healthcare within a decade's time? Maybe not.
But we are seeing evidence of digital health's potential for positive impact on the treatment of chronic conditions and supporting healthcare policy.
A number of pilot programs focused on addressing disease management have yielded good results. We've seen that digital health can translate underlying medical treatment guidelines into software algorithms that anticipate patient needs and trigger consistent treatment with less human intervention. The indication is that these programs will scale for chronic illnesses like cardiovascular disease, diabetes, and asthma and yield significant cost savings.
More importantly, digital health is addressing behavioral factors that get in the way of effective treatments being adopted by patients, employers, and healthcare providers. With digital health the burden of daily monitoring is being eased, complex treatments like MDI (multiple daily injections) are broken down into simple in-the-moment tasks, and in-real-time support from medical professionals and peers are enabled.
We're also seeing healthcare regulators and policymakers update their systems to accommodate digital health's unique requirements and establish pathways for payment for healthcare providers.
At the beginning of 2019 the FDA released a new regulatory framework for digital health. By the end of the year, key changes to insurance payment systems made it easier for healthcare providers to bill for and receive payment for digital health services. These changes included Express Scripts establishing a digital health formulary and CMS (Centers for Medicare and Medicaid Services) adding remote patient monitoring to its reimbursement rules.
Maybe we shouldn't look for a tipping point in digital health that will dislodge massive change in healthcare. Perhaps a better metaphor is to think of digital health's impact as redirecting a ship at sea. Each change takes place a few degrees at a time. While it may seem like slow going, reaching the new destination becomes more inevitable with each small course corrections made along the way.